Our COVID-19 Policy: What We Are Doing
We are all aware of the ongoing issues with the COVID-19 coronavirus and the challenges it creates for all of us. We at Dallas Plumbing & Air Conditioning are very sympathetic and understanding to all of those who may be affected by this virus. We want to personally reach out to you, our valued customers to update you on the actions that Dallas Plumbing & Air Conditioning is taking to help prevent the spread of the virus. We continue to closely monitor the ongoing COVID-19 situation to ensure we take all necessary steps to protect the health and safety of our customers and team members. We are following Centers for Disease Control (CDC) guidelines, as well as guidance from federal, state and local officials, to make informed decisions. We appreciate everyone's commitment to recommended prevention methods. We are fortunate that we currently have no reported team member or customer cases and our company remains open for business. We also wanted to share additional information about actions that we have implemented in response to COVID-19: Our employees have been encouraged to stay home if they are sick and to practice social distancing.
We have set up sanitation stations in the building so all employees can sanitize on a regular basis.
We sanitize all handrails, doorknobs and chair arms, workstations and shared business machines twice daily.
All technicians are required to wear masks. They are also required to wear new latex gloves and shoe covers to every service call and to dispose of them after leaving each location.
We are requiring all service technicians to check their temperature before coming to work in the morning.
Sick employees are not allowed to work.
Our technicians will follow social distancing guidelines wherever possible. Some situations may require two technicians close together in tight spaces.
You are free to check their temperature before entering your property.
You are free to ask questions and decide who can enter your home or business.
We ask you to notify us about any concerns you may have.
We thank you for being a loyal Dallas Plumbing & Air Conditioning customer. We are proud to serve you and hope that we will be seeing you soon.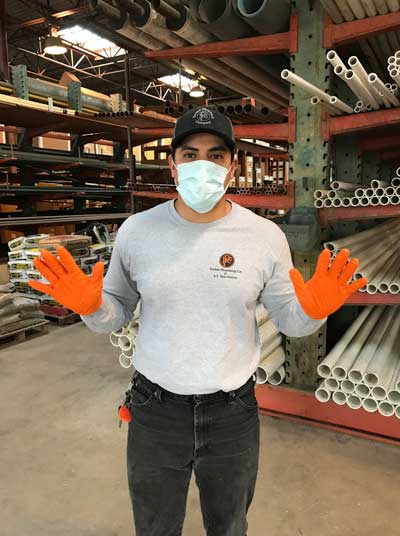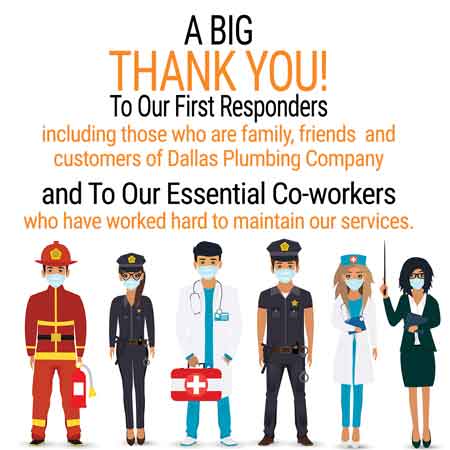 See What Our Customers Say About Our Service
Your technician has done an incredible job repairing a major plumbing problem. He is diligent, hard-working, smart, efficient and very professional.
I was very impressed with your employee. Not only did he give us superior service, he checked to see if our air conditioner was running the next day.
By far the best service of any service people I deal with. Being a business owner I appreciate the level of knowledge each of your technicians has. Keep up the great work!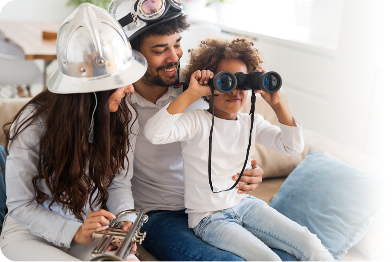 We send special offers that will save you money! Just submit your email below to be added to the list.
You agree to be contacted via electronic means consisting of text, phone calls, and voice mail for special offers, estimates, invoices, and other communications. You may opt out of electronic communications at any time. Thank You!
100% Satisfaction Guaranteed On Our Services
For over 120 years, we've been serving commercial and residential customers in Dallas, Collin, and Tarrant County. Call our experienced plumbing and HVAC technicians.